Polycom Real prescence Trio
Polycom RealPresence Trio is the only modular smart hub in the market today and your expectations of group collaboration will be forever changed. Modular in design and priced right for mass deployment, RealPresence Trio is perfect for any size group
Simple to use and manage
• Speed connection for every call and eliminate errors with the intuitively simple and vibrant 5" touchscreen
• Easily join a meeting with one-step-to-join and calendar integration and notifications
• Thoughtful touches like an illuminated mute button on each leg allows everyone to easily manage the collaboration experience
• Quick and easy to deploy – just like a phone including zero-touch provisioning and Power-over-Ethernet (PoE)
---
Barco Clickshare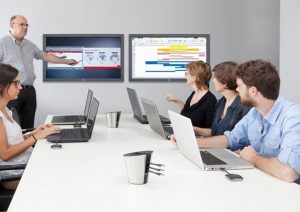 Plug into simplicity – tap into amazing
ClickShare wireless presentation systems.
The easiest way to share big ideas and watch them grow.
---
Nureva Span Ideation System
Ideation reimagined
New ideas keep you in business. That's why teams everywhere hole up in meeting rooms to scribble on flip charts and paper the walls with sticky notes. The Span ideation system brings this proven process into the digital age. A panoramic projector provides an expansive virtual canvas where teams share and iterate ideas. Working in the cloud makes it easy for team members to contribute from their own devices. It's collaboration for the digital generation – familiar, simple, flexible.
Digital engagement, Persistent content, Panoramic Display, Active Collaboration
The Span system helps students develop the skills they'll need for future success:
Creativity
Create new ideas and demonstrate inventiveness
Critical thinking
Challenge assumptions, make connections and consider multiple perspectives on goals together through productive, respectful and engaged work
Communication
Represent thoughts and opinions clearly while seeking to understand the contributions of others
Think & Create, Share & Make Connections, Expand & Deepen