Who We Are
Cine Audio Visual is an Alberta based family owned and operated business, with locations in Edmonton and Calgary.
We specialize in implementing solutions to provide communication and collaboration through technology. We achieve this through our full-service facilities including consulting, design, sales, and integration as well as rentals and live event staging, production and computer graphics.
Our goal in every job we do is customer satisfaction. We believe in building long-term relationships with our clients by providing not only dependable solutions but by listening to the clients and understanding what their objectives and priorities are. We take pride in our work and have always stood behind our integrations by offering a one year warranty (at no charge) on every project we do.
Our spectrum of clients includes all aspects of the corporate, education, healthcare, and government industries. We provide A/V solutions for classrooms, auditoriums, press conferences, boardrooms, meeting rooms, conferences, and everything in between. We can also accommodate the client who wants to do it themselves through our sales and rental divisions.
Let us put our over 50 years of experience to work for you.
---
Our History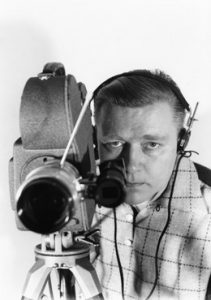 The first camera purchased by founder Nick Zubko, back in the 1950's, rests humbly in our sales office—in stark contrast to the neighbouring display of high tech audiovisual systems. How times have changed!
But so have we.
In fact, we credit our success and longevity to our continuous evolution right alongside this dynamic industry. By offering knowledgeable advice, custom solutions, audio/video rentals and systems that feature the very latest technology, we help our clients project their best image—confidently and reliably.
At the heart of our family business, however, is a true passion for the industry and dedication to customer service—the same characteristics that helped build this organization. That shared passion emanates from Nick's three sons, Daryl, Scott and Josh, whose direction and leadership continues to build the legacy.
When you need audio/video equipment rentals, staging, sales, or integration services in Edmonton or Calgary, we invite you to make Cine Audio Visual your first stop. We know you'll be impressed by the expertise of our staff and their desire to help you achieve your goals. We hope to hear from you soon!
AMPIA David Billington Award Tribute Video of Nick J. Zubko
Part 1
Part 2